LED Light Colors
In the past, the color options for LED lighting were limited; causing many to shy away from LED lights. Today, LED lamps are available in a full range of colors from soft and warm to cool and bright.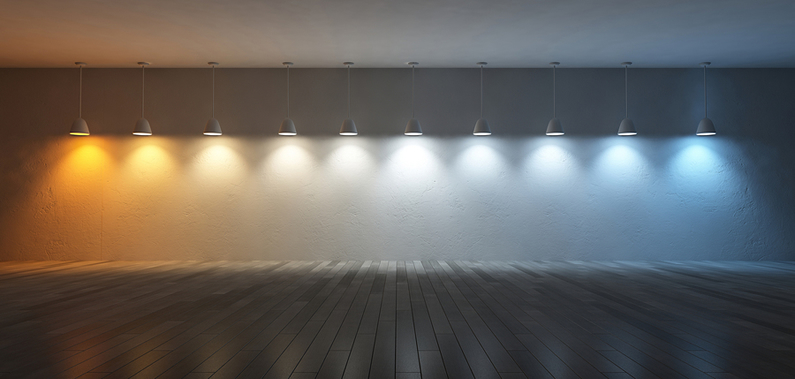 Now, you can visually enhance any environment at your organization with LED lighting. There are a few factors to consider before deciding which color of LED lighting is right for a given space; some commercial spaces benefit from multiple levels and layers of different light temperatures / colors.
When lighting is implemented properly, it can directly affect a business' bottom line. The best lighting goes unnoticed, however the customers in your parking lot feel safe, the interior lighting magnifies the appeal of your product, and employees are happier and more productive because they can more comfortably see what they are doing - in an office, warehouse, repair shop - you name it.
Let's explore some basic lighting concepts and bring some illumination to this often misunderstood topic.
The Basics...
All artificial light emits color. While you may not notice it, these tones have the power to influence your mood, productivity, and sense of well-being. If you've ever been inside of a grocery store for at least 30 minutes, and then walked outside into bright daylight, you likely noticed that everything appeared different somehow. This is because the store's lighting was "warmer" than the daylight, which means it was only emitting colors from the yellow end of the spectrum.
All "white" lighting is either warm, neutral, or cool. The color of LED light is measured according to its Correlated Color Temperature (CCT). CCT is a way of describing the warmth or coolness of artificial light. A lamp's CCT is written in Kelvin units. Lower Kelvin temperatures are considered warmer and higher Kelvin temperatures are considered cooler.
Warm lighting improves skin tones and can make a commercial space feel more intimate. Building lobbies routinely use warm LED lighting because it is welcoming and flattering.
Neutral lighting mimics natural light from the sun; it is often found in art galleries and commercial spaces.
Cool lighting is more favorable for visual tasks and makes a commercial space feel larger. You will often find cooler lighting in office buildings and large commercial spaces, like electronics stores.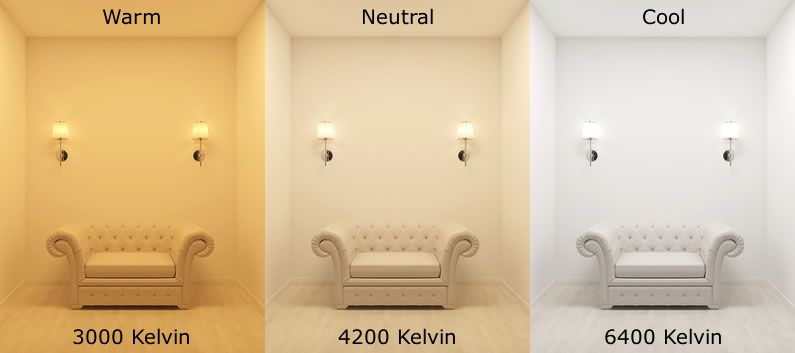 Lamp Brightness Influences Color
Today, LED lighting can be virtually any intensity; to complement any type of space. Brighter isn't always better. While you may choose bright LED lighting for a parking lot, the same lighting in an interior retail space would likely feel too bright and cause eye fatigue.
Layering Lighting to Define a Space
By carefully selecting the color and brightness of interior and exterior lighting, you can create depth and dimension in any room or space. Pay close attention to the lighting the next time you enter a department store and you will see how the ambient lighting is enhanced with accent lighting, decorative lighting, and task lighting.
Considerations for Lighting Commercial Spaces
Because lighting directly influences mood, productivity, and security, it has the power to:
Affect the overall atmosphere of work environments
Motivate employees
Increase the physical comfort of customers and employees
Create a welcoming and inviting atmosphere
Increase feelings of personal safety
Focus a customer's attention to a specific area
Increase sales
Save Energy and Money with LED Lighting
LED lighting is considerably more energy efficient than fluorescent and HID lighting. With LED lighting, you could cut 50% or more off of your monthly lighting energy bill. Plus, quality LED bulbs typically last four times longer than fluorescent and HID lamps. Longer-lasting bulbs save you money on bulb replacement and on the labor costs of bulb replacement.
LED lighting may also be fitted with motion sensors, further reducing power costs while increasing a bulb's lifespan. Your electric company may offer rebates for using motion sensors, so be sure to ask.
Most LED lighting manufacturers offer warranties of at least five years on their products, and most are rated for 50,000 to 100,000 hours of reliable operation.
If your organization hasn't made the switch to LED, now is the time to talk with a commercial lighting specialist.
Contact us today to discover how LED lighting can help your company improve results and save money.