Lighting Services
Why put up with dim, burned out lights, glare, and poor lighting when it's so easy (and cost-effective) for you, your employees, and your guests to enjoy great lighting! When you need electrical services, our experienced electricians are available to install, repair, replace or upgrade your electrical components.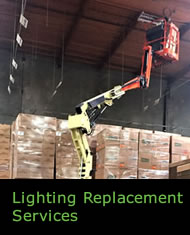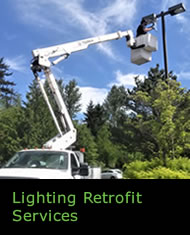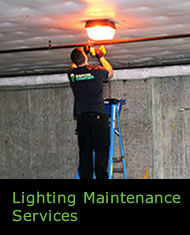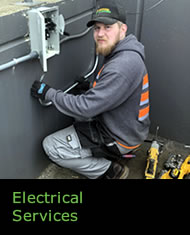 When it comes to maintaining, retrofitting, or replacing your lighting, you'll see the costs and your estimated ROI so it's easy to pick the best option for your company.
Contact us today to talk with a lighting specialist. We make it easy to keep your property well-lit inside and out and can probably help you reduce your lighting bills.

Transparent pricing. Your lighting work will be completed per your written, signed, quote. Your quote will list your products, labor costs, and any applicable equipment fees. We do not charge trip fees. Additional work is completed only with your advance approval.
In-house electricians. One of the many ways we ensure your job is done right, is to use our own in-house team of experienced electricians to replace or retrofit your lighting and complete most electrical services you may need. Anything from installing or replacing your lighting to installing, repairing or replacing any other electrical components in your facility.
Fully-stocked truck. Your electrician will arrive with all the products and supplies they will need to complete your job: lights, fixtures, supplemental products, electrical and other supplies.
Equipment. Stairways, narrow doorways, ramps, racks, low ceilings, and very high ceilings are just a few of the "obstacles" we prepare for before your electrician arrives. Our initial on-site evaluation includes reviewing the location and height of each of your lights as well as any access restrictions, to ensure that we arrive at your facility with the right equipment (ladders, lifts, bucket trucks, etc.) to reach all of your lights and complete your job promptly.
Serving greater Seattle / Puget Sound from Olympia to Everett including Seattle, Tacoma, Gig Harbor, Puyallup, Sumner, Fife, Federal Way, Auburn, Kent, Renton, Tukwila, Mercer Island, Factoria, Bellevue, Kirkland, Redmond, Issaquah, and surrounding areas.
Request a quote today to talk with a lighting specialist about solutions for your lighting issues. Discover whether you can cut your energy costs and your lighting maintenance costs.